Fromm P328 : polypropylene and polyester strapping tool
The Fromm P328 is a battery powered poly strapping tool. This handheld combination tool can be used with 7/16" to 5/8" polypropylene and polyester straps of maximum thickness 0.041". It can be used in automatic or semi-automatic versions and generates adjustable tension of up to 585 lbs. It applies friction weld seal that has extremely high strength. This is a lightweight tool at just 8.7 lbs and has a series of new features that make it a highly versatile tool.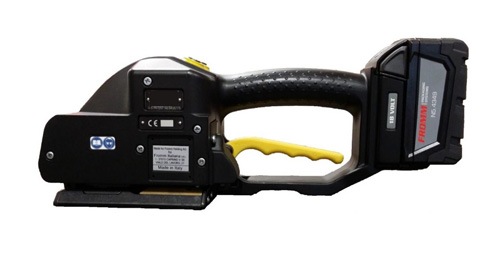 Technical Specifications
The key technical specifications of this battery-run strapping tool are as follows:
Strap Dimensions: Width 7/16" (12mm) to 5/8" (16mm) and thickness 0.016" (0.40mm) to 0.041" (1.05mm)
Adjustable Tension Force: 56 lbs (250N) to 585 lbs (2600N)
Adjustable Tension Speed: 2.6" to 4.9" or 67mm to 124mm per second
Weight: 9.3 lbs or 4.2 kg
Seal Type: Friction Weld
Seal Efficiency: Up to 75%
The Fromm P328 is considered among the toughest tools in its segment. It comes with the latest technologies and features that allow faster and easier strapping. Carry the battery bander around the warehouse without worry about its weight or air lines.